Card Security Code
The card security code (or the CVV2) is a 3 or 4 digit number printed on your card. This number is only printed on your card and is not stored anywhere. The only way to know this number is to physically have the card. Asking for this number is a standard security measure for your protection.
If you are using a Visa, Mastercard, or Discover card, it is a 3 digit number that appears to the right of your card number (see below).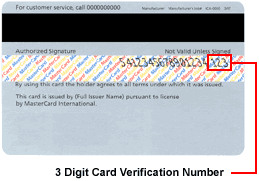 If you are using an American Express card, the verification number is a 4 digit number that appears on the front of your card, above and either on the left or right of the card number (see below).